It's no secret.
Customer Service is incredibly important for any business.
As a result, not having a clear Customer Service strategy for your business can set you multiple squares behind when compared to the competition.
Today, we'll break down some of our best practices for Customer Service and how they can help your business.
Why Good Customer Service is Important
You might be wondering "what's the point of customer service anyway?"
Well, the truth is that good Customer Service can have a significant impact on your business and its revenue.
For example, good Customer Service can increase the value of your product or service, increase customer retention, and recurring revenue.
It can also result in more customer reviews and testimonials that can help your overall brand image.
Want to learn more? Read our guide on why good Customer Service is important and how it can help your business.
Customer Service Best Practices to Implement in Your Business
Now it's time to review some of the best practices for Customer Service. Remember, these are general practices and not all of them might apply to your specific kind of business.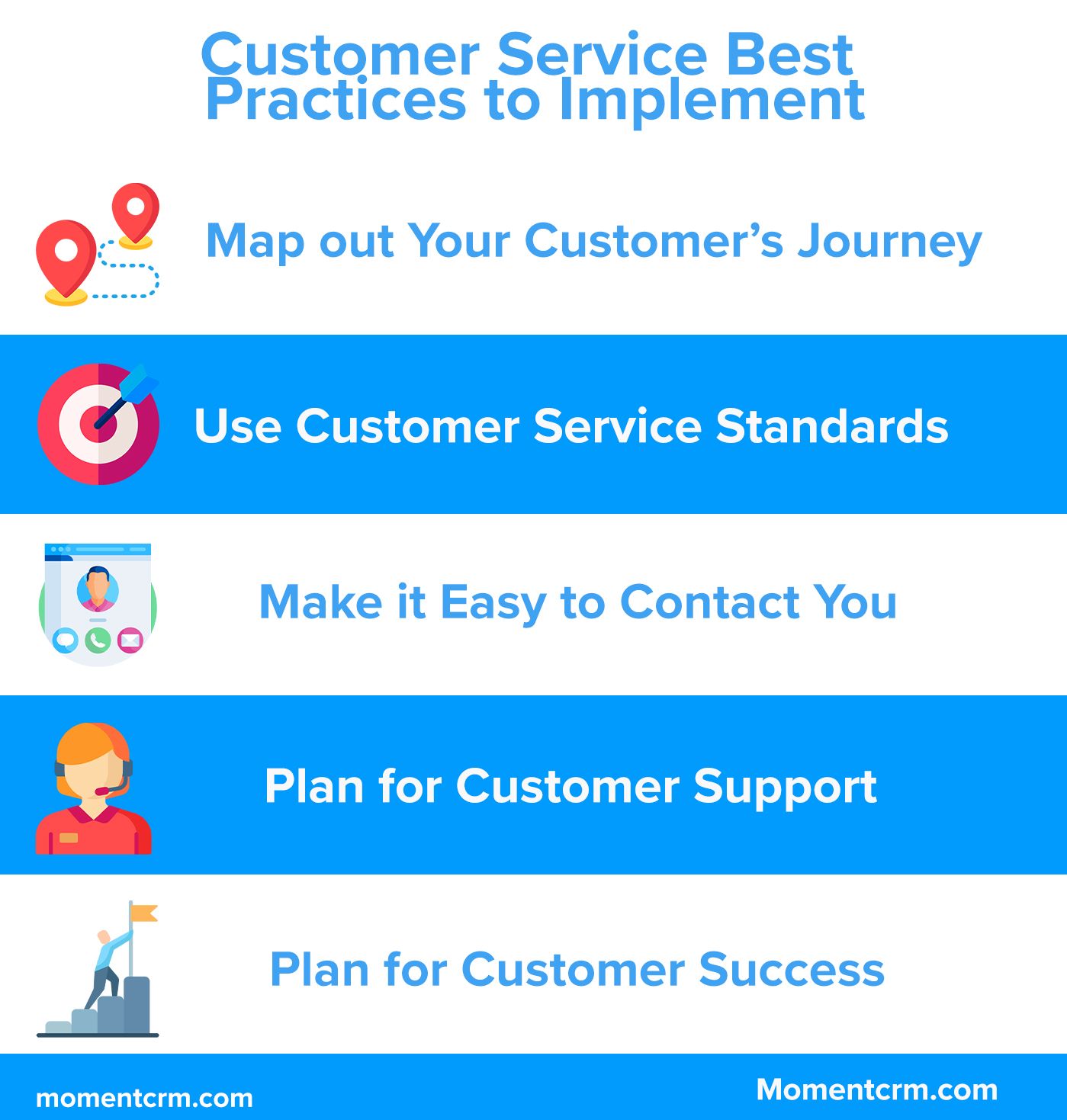 Map out Your Customer's Journey
The first towards improving your customer service offerings involves understanding all the touchpoints between your business and your customers.
This way, you will be able to identify the needs of your customer along their entire customer journey.
Mapping out your Customer Journey is actually quite easy. Get started by checking out our guide on the Customer Journey and how to map it.
Use Customer Service Standards
Once you've identified all the touchpoints between your customers and your business, you will have to establish some Customer Service Standards.
Customer Service Standards are measurable goals that seek to improve the experience of your customers.
These can include:
Speed Standards
Accuracy Standards
Accessibility Standards
And more!
Learn more by reading our guide on Customer Services Standards to start using in your business.
Make it Easy to Contact You
Optimizing your communications with your customers is key to customer service. After all, no one wants to feel like getting to you is a chore in itself.
Harnessing modern technologies can help you improve the way you communicate with your customers both in-person and digitally.
We personally recommend getting started by implementing a live chat on your business website. Live chats can help you contact more customers more efficiently.
Get started by reading our guide on how to easily add a live chat to your website.
Plan for Customer Support
When your customers need your help, it creates an opportunity to wow them with outstanding support.
Having a strong Customer Support strategy can boost your overall Customer Service strategy. After all, both Customer Service and Customer Support are different things and have different goals.
Learn more about the differences between Customer Support and Customer Service and how good Customer Support can help you grow your business.
Plan for Customer Success
Another big component of your overall Customer Service strategy is Customer Success.
Mostly since this plays a huge part in your relationship with your customers after they've made a purchase from you.
Customer Success seeks to see your customers succeed in order to strengthen their relationship with your business. After all, their success is your success.
Learn more about Customer Success and how it can help your business.
Closing Thoughts
Improving your overall Customer Service can have significant impacts on both your customer retention and recurring revenue.
How you decide to improve your strategy, is up to you.
But we hope our selection of best practices have gotten your creative juices flowing.