Customer Service Standards to Implement in Your Business
Keeping track of your customer service performance can be key for your business.
After all, how can you improve something you don't know?
Today, we'll talk about Customer Service Standards, what they are and which ones you should implement in your business.
What are Customer Service Standards?
Customer Service Standards are measurable goals that can be established in your organization in order to improve your customer service operations.
These standards seek to improve or maintain expected levels of service.
For example, in an eCommerce company, a Customer Service Standard might be related to how fast online orders are shipped out of the warehouse.
Such a business might have a standard of 24hr from when an order is made to when it ships out to the customer.
Want to learn more? Read our in-depth guide on Customer Service Standards and how they help your business.
Customer Service Standards vs KPIs
Customer Service Standards are often confused with Customer Service KPIs.
Mostly since both tackle the measuring of customer service operations in your business.
The key difference here is that KPIs are the actual measurement while Standards put that measurement into context.
For example, a KPI for an Eccomerce company might be an average delivery time of 3 days. Is that good or bad? Well, it depends on the Company's Customer Service Standards.
These standards put your KPI's into the context of what a "Good" performance in the company looks like.
Want to learn more? Read our in-depth guide on Customer Service KPIs and how to track them.
Customer Service Standards to Implement in Your Business
Next up, we will discuss some Customer Service Standards that you could implement in your business.
However, keep in mind that we do not know the specifics of your business. After all, the best standards vary from business to business. Take these as recommendations to get started.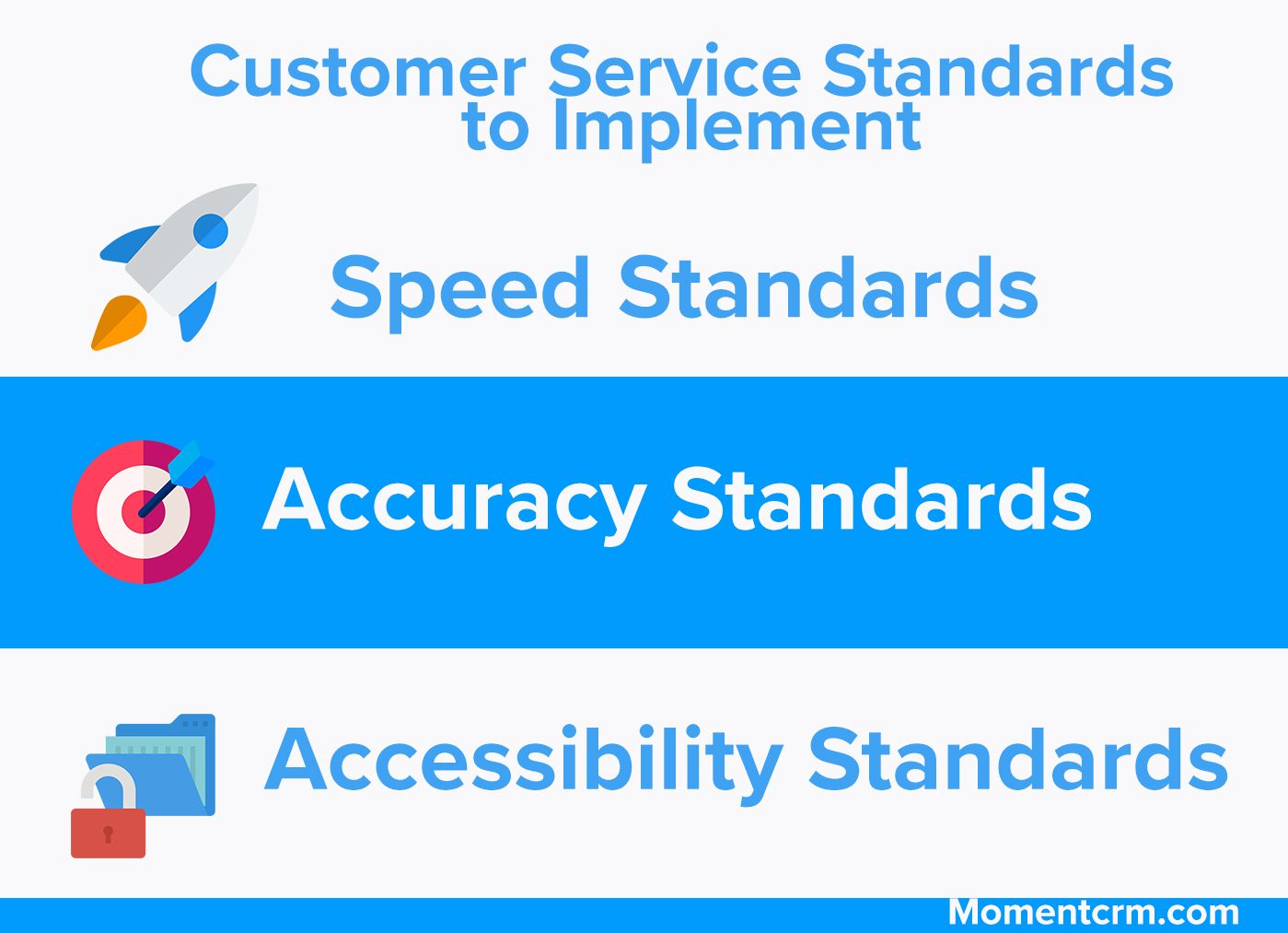 Speed Standards
Quick service can make or break your business. Especially in the commerce space.
In fact, 12% of Americans rate their number one frustration with customer service as "lack of speed".
However, these standards do not only relate to delivery and shipping. They also pertain to your customer support efforts such as your First Response Time, Average Response Time, and more.
And remember, automated emails do not count as proper responses to your customer concerns. If speed is important to your business, you will need to keep these standards in mind.
Accuracy Standards
Speed is good an all, but if you're sacrificing the quality and accuracy of your services for speed you might end up with a net loss in quality.
Customer Satisfaction Scores and NPS scores can provide great insights into the accuracy and quality of your customer support operations.
Alternatively, you could also look at Error Rates or Return Rates to identify accuracy issues along the product supply chain.
Accessibility Standards
When a customer has a question or concern about your product or service, they should be able to easily contact you. The more hoops a customer has to jump through to contact your team, the worst your customer support looks in the eye of the customer.
And as we mentioned earlier, automatic replies do not count as legitimate responses either.
What are your support hours? Are they flexible enough to serve most of your customers?
Can customers quickly contact you via channels such a live chat and email? How long are the wait times from when the customer contacts you to when a staff member at your company responds?
Closing Thoughts
As you can see, there are multiple ways in which you can implement Customer Service Standards in your business.
Do you care more about your company's transparency or efficiency? Maybe, you'd want to implement transparency and efficiency standards for your company as benchmarks.
At the end of the day, you'd have to align your standards with your business objectives.