Adding a live chat to your website can enhance both your sales and customer support efforts.
After all, a live chat opens up a brand new communication channel with your website users. One that is also instant and multi-platform friendly.
However, you might still be on the fence about adding a live chat feature to your website. Or maybe you might want to know more about the advantages of live chat before adding it to your website.
Let's break it all down.
Why Good Customer Service is Important
First, we need to put emphasis on the fact that good customer service can bring several benefits to your business.
Not only will it make your customers happier, but it can also have a direct positive impact on your company's revenue.
Some benefits that good customer service brings to your business include:
Adding value to your product/service offer
Increases customer retention
Increases recurring revenue
Positively impacts your brand's image
And many more
All in all, we can all agree that good customer service is imperative to compete in today's market. Therefore, any tools that can improve your customer service efforts can be quite valuable.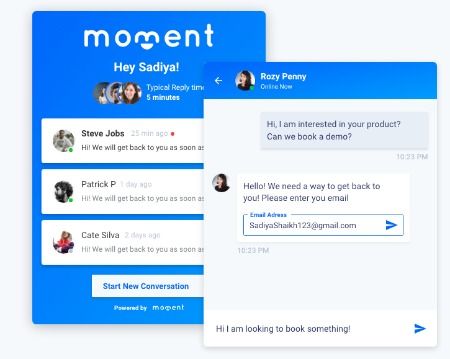 6 Reasons Why You Should Add Live Chat
Adding a live chat to your site can bring many more benefits aside from just providing better customer service.
6 Reasons why you should add a live chat to your website:
Your customers want it
Saves time and money
Generates valuable data
Chat is also a sales channel
Provide Customer Support 24/7
Increase customer experience
1. Your Customers Want It
We live in pretty fast times. This applies to almost anything, including your customers.
This is why most consumers prefer to communicate with businesses over live chat rather than other traditional channels. In fact, the number one reason why consumers prefer using live chat is due to the fast response times that this cannel allows for.
Keep in mind that live chat can also be a sales channel. So, by not offering live chat on your site, you are missing out on potential new customers who want to communicate with your business via chat.
2. Live Chat Saves Time and Money
By nature, live chat is fast and composed of short messages.
Additionally, unlike in other communication channels, a support rep is able to assist multiple customers at the same time via chat. As a result, your support staff can work faster and more effectively without needing additional resources.
In the long run, this can represent large savings of both time and money. Therefore cutting your support costs without hurting (and even improving) performance.
3. Generates valuable data
A live chat on your site can also generate and store incredibly valuable data about your customers.
From frequent questions that customers ask before making a purchase, to common issues customers might have after using your product. This data can be valuable to improve your marketing efforts and product development.
This data is already stored via text, which makes it more accessible than phone call recordings. And with more users preferring chat over email, you will also have a higher volume of customer data.
Remember, the more you know about your users and their experiences, the more you can accurately cater to their needs.
4.  A Live Chat is also a sales channel
As we mentioned earlier, you must not forget that a live chat is more than just a support channel.
In fact, it is estimated that just adding a live chat to your website can increase your revenue by 20% on average.
If your customer has questions about your product and is ready to make a purchase, you'll want to make sure you can answer them before your competitors get to it.
5. Provide Customer Support 24/7
When you a live chat, you have the option to provide customer support 24/7. Compared to phone support, live chat support can be provided outside of regular business hours. If you have a larger audience, providing remote customer support can allow you to interact with customers that aren't in your time zone!
As mentioned above, since providing a live chat is more cheaper in price, providing customer support via live chat 24/7 can help give you competitive advantage.
6. A live chat Increases customer experience
Customer experience plays a key role in your business' growth and revenue. If customers have any questions or problems with your company and aren't able to resolve them, your customers will have a negative experience and may go to a competitor.
A live chat gives your customers options on how they can contact you. This will only increase customer experience but also trust!
How to Add a Live Chat to your Website 3 Simple steps!
So, you're now ready to add a live chat to your website.
Luckily, doing so is extremely easy. However, that doesn't mean it should be done carelessly.
There are still several things you should consider before taking the next step, such as what live chat tool you will use and how you will train your team to use it.
While there are several live chat tools available, we think you'll enjoy Moment! Not only does it come with a free live chat tool, but it is an easy to use CRM software and has live sessions replays. You'll get all of this for free when you register, no method of payment needed!
Adding a live chat to your website can be done in 3 simple steps:
Create a new team on Moment
Create a Free Moment Account and Verify Your Email
Copy and Paste the Code Snippet in the <head> Tag of Your Website
To make the process easier, we have written a guide on how to add live chat to your website in 3 steps and a follow-up on how to efficiently provide customer support via chat.
Closing Thoughts
In today's highly competitive market, there is no excuse to forgo on the things that your customers want. Especially when it relates to a tool that will also positively affect your bottom line.
Live chat has become a staple of customer communications and deciding not to integrate it into your website is equal to leaving money on the table.
Now that you have all the knowledge necessary to start chatting with your customers, why not check out Moment? A fully-featured live chat tool with CRM integrations and browser recording. You can get started using Moment now, for free.
Happy Chatting 💬