Knowing who your customers are can drastically help your business. if you can think like them, you can increase your sales.
This is where customer knowledge comes in handy.
But what is customer knowledge? how can you as a business owner or marketer get it?
We'll answer those questions and show you our recommendations to get customer knowledge!
First, let's define customer knowledge.
What is customer knowledge
Customer knowledge is referred to understanding who your customers are. This includes understanding:
Their wants and needs
How they behave and what motivates
Their likes and dislikes
How they shop
Customer knowledge also includes understanding how they view your brand. Do they have a positive or negative attitude towards your brand?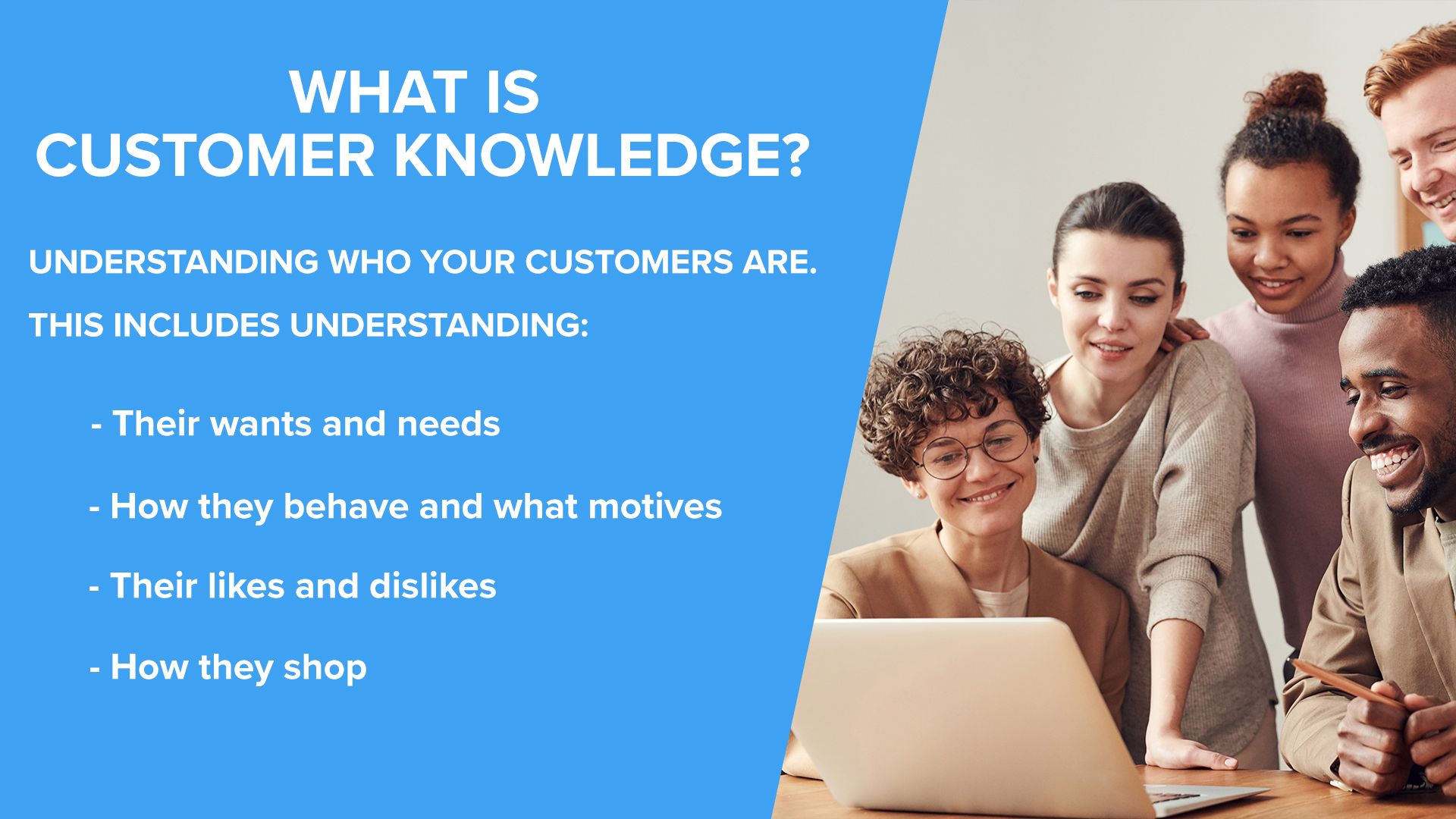 Understanding the customer journey also plays an important role in customer knowledge. Knowing how your customer will behave or act at different points of their journey can help improve your conversion rate and minimize your customer churn.
It includes the process of analyzing your databases, target market, web behaviour and any other analytical tool you can use. Many business owners and marketers take the time to understand their customers as it can help grow their business' sales and profits!
In the past, it was difficult and tedious to complete some research and improve customer knowledge.
Today, with new technology and software to help us keep track and analyze our customers, it has become easier to grow your customer knowledge. There are many tactics you can use to improve your customer knowledge, but we'll go over our recommendations.
How do you improve customer knowledge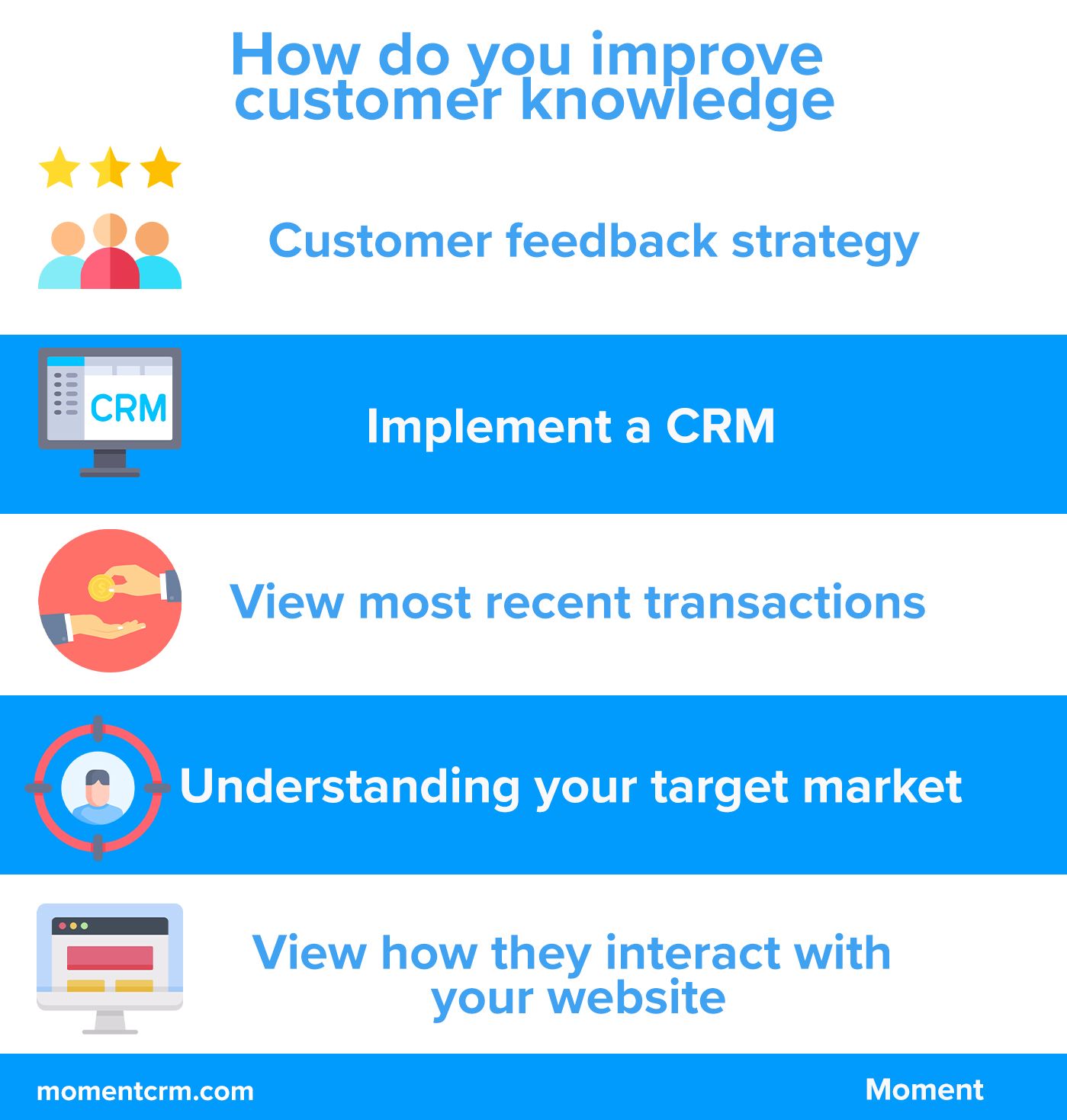 Here at Moment, we've considered many different ways to improve your customer knowledge, but here are 5 ways you can improve your customer knowledge:
Customer feedback strategy
Implement a CRM
View most recent transactions
Understanding your target market
View how they interact with your website
Customer feedback
An easy way to gain knowledge about your customers is to get information from them. A customer feedback strategy can help you find areas of your business plan that needs improvement. You're able to directly gather information on their experience, satisfaction of the product or service and their opinion on your company. Several customer feedback strategies include:
Customer satisfaction surveys
Reviews and testimonials
Online brand reputation
Interviews
You can read our blog post about implementing a customer feedback strategy here.
Implement a CRM
Implementing CRM (customer relationship management) software is one of the best ways to keep your customer base organized. It allows you to see who are the most active users/ shoppers. A well-created CRM software will allow you to gather valuable customer data you can use to help improve your customer knowledge. There are many benefits of having a CRM like:
Centralizes customer data
Automates data collection
Better use of customer data
Improves the quality of your customer data
You can view the advantages of using a CRM solution here.
There are many CRM solutions available to help you gather and organize your customer data. Which one is right for you? The answer is that it depends! But we think you'll enjoy Moment. It's free to register and has a suite of features we think you'll enjoy like a live chat, live session recordings easy to use and many more!
You can register to moment for free here
View most recent transactions
When you view your most recent transactions, this allows you to see which products or services your customers are most interested in. It can also show you your best-performing products. Understanding why customers are buying a certain product can help you make decisions for the future to make products that your customers will enjoy.
Recent transactions also include any returns that you have received. Understanding why customers return certain products will help you develop your product. Yes, we understand that you won't be able to satisfy 100% of your customers, but you can do your part to ensure that customer happiness is as high as possible.
Figuring out your target market
Your target market is a group of people that may be interested in your product or service. You can define your target market in 4 ways:
Demographic
Psycohrahic
Geographic
Behavioural
Since your target market is potential customers, defining it can help improve your customer knowledge. Where they're located, how they act and think are important things to know when improving your customer knowledge.
Understanding how they interact with your website
As mentioned before, understanding how your customers act and behave will help your customer knowledge. This includes how they interact with your marketing campaigns! Understanding how your users interact with your website will help increase your conversion rate, user experience and interaction.
There are many analytic tools you can use like Google Analytics to see which pages are performing the best. If you want a visual representation of how your customers are interacting with your website, you can use Live session replays. This gives you a visual representation of how users are interacting with your website or software. You can see what distracts them, what content they're interacting with the most and what caused any customer to leave.
Moment comes with live session recordings for free!
Why is customer knowledge important
Customer knowledge plays a key role in your business' growth. When you understand your customers, you can make decisions that will improve the customer experience, increase customer loyalty and retention, and recurring revenue.
Here are 3 reasons customer knowledge is important
Personal customer experience
Better decisions
Increase your conversion rate
Closing thoughts
Customer knowledge can be improved by collecting the necessary information from your customers. Once you understand who they are, how they act, and what they need, you can create a more personal customer experience.
Many tools can help you gather customer data. A CRM solution like Moment is free to use and can help you start gathering customer data right away!
How will you use customer knowledge?