Combining a CRM and ChatGPT to Improve Sales and CX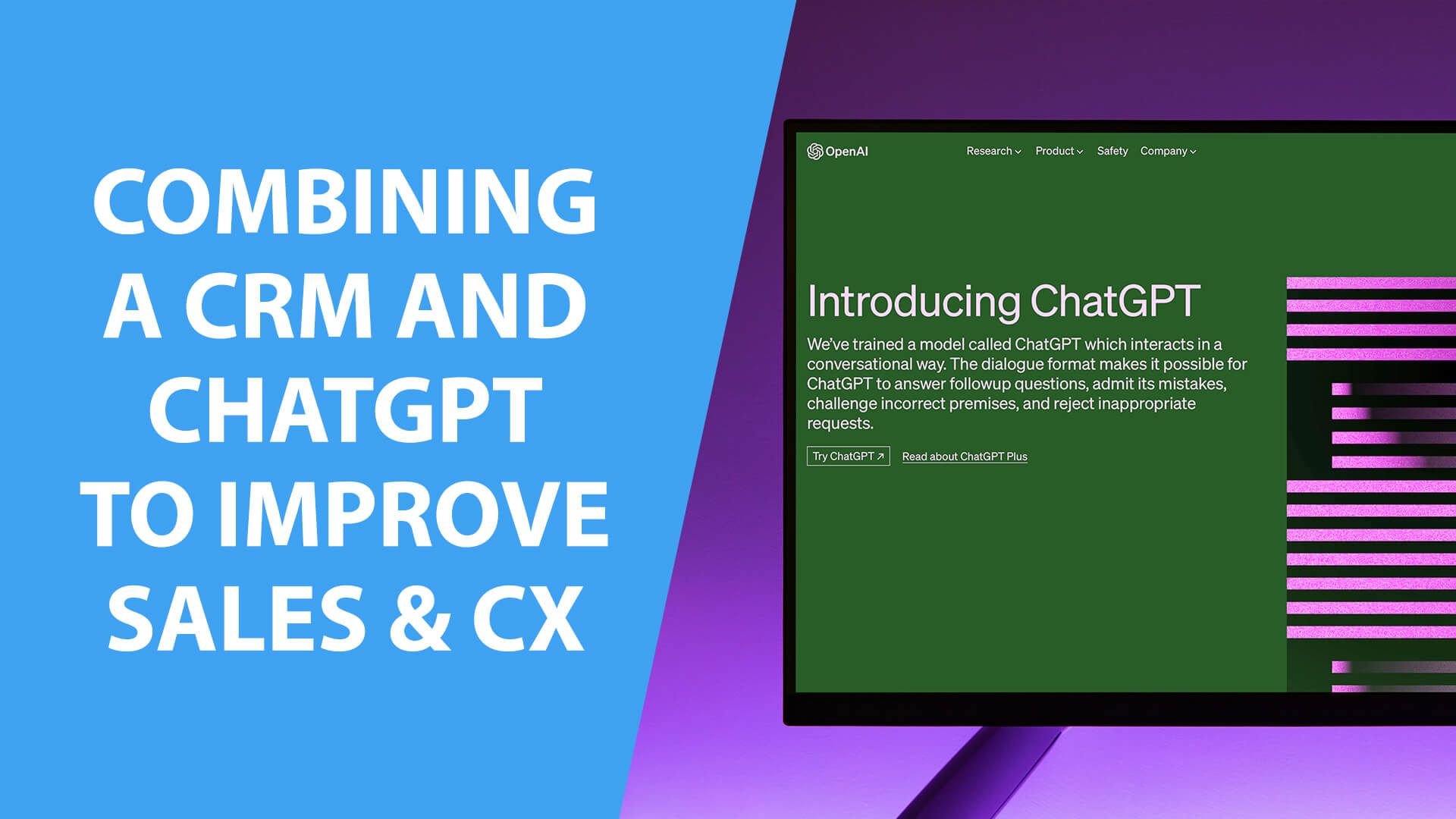 In this blog, we will discuss what CX, CRMs and ChatGPT are, three ways to combine a CRM and ChatGPT to improve your sales and CX, and the best free CRM your business should use!
What is a CRM?
A CRM is a customer relationship management tool and is one of the best free tools you can use for your business and website. Many businesses use CRMs to track their customers, their contact information, conversations, purchases, and other important business information. As a central repository, it is very useful for teams and companies with multiple employees and departments. CRMs are proven to make your business more profitable, and in this blog we will show you how you can combine it with ChatGPT to take your sales to next level!

What is CX?
CX stands for customer experience. It is the overall experience your customers have with your whole brand, products and services, and customer support team. Companies invest millions of dollars into their CX, as it ensures long term business success and growth. Therefore, improving your CX will greatly improve your business as a whole, not just your sales.
What is ChatGPT?
ChatGPT is the largest and most powerful language model in the world, created by OpenAI. It is trained on billions of words and phrases and can answer questions naturally and accurately and provide recommendations or text to fit any application. ChatGPT continuously learns from more user inputs, and can even respond to previous queries you ask it, allowing for deep brainstorming and content generation.
3 Ways to Combine a CRM and ChatGPT
There are many benefits of using a cloud CRM, but when combined with AI generated responses from ChatGPT, you can increase your sales and improve your CX greatly. Here are 3 ways to combine a CRM and ChatGPT to improve sales and your customer experience:
1. Create Killer Sales Campaigns
ChatGPT can write amazing sales copy, such as ad headlines and cold emails! You can even send nested inputs to ChatGPT and ask for follow up email copy as well. You should combine the custom sales copy you receive from ChatGPT and use it on a free email and sales marketing platform, such as Moment. Moment allows you to send out mass emails or messages to your leads and prospects, all for free, in your Moment CRM dashboard. You can also personalize your email campaigns to increase sales further, as ChatGPT will just give you the general body of the email. By personalizing the name fields and other key details, your open rates, click rates and conversion rates will greatly improve. This will lower your customer acquisition costs, as email marketing is much cheaper than paid advertising. However, you can also use ChatGPT to make amazing ad campaigns as well. Using ChatGPT with a CRM will ensure you will close more leads in 2023, as you will have a central system to continuously engage and upsell customers.
2. Generate Helpful Content and Replies
As discussed, ChatGPT can generate you sales copy, but it can also generate support messages and/or help documents that can be useful for your customers. You can save these messages and send them in realtime to your website visitors with Moment's free live chat. With Moment's live chat you can also look out for important customer support messages, and direct them to useful blogs or content that ChatGPT has helped generate for you. By handling customer complaints in realtime, you will improve your customer retention rates, and will increase your revenue.
Note: Moment will soon allow you to host your own Help Center, Your support team can send pages from it to visitors or customers via live chat. You can use ChatGPT to populate some of your frequently asked questions in your Moment Help Center.
3. Perfect Your Landing Page
Finally, you can use ChatGPT to generate you multiple landing page headlines, website copy and call to actions. This will help you convert more website visitors into customers! By using AI to generate your landing page content, you will save lots of time and money. You can use Moment's free session recording to A/B test the different generated headlines, copies and call to actions to find the best one. Session recording allows you to see a live replay of your website visitors and can give you insights into winning copy and design. With the replays, you can display winning content and perfect your landing page and website.
Which Free CRM Should You Use?
In the end, ChatGPT is a very useful tool for generating ideas and writing sales, help documents and email content. You can combine ChatGPT with a free CRM, such as Moment to make amazing marketing campaigns, improve your website, improve your customer support efforts and ultimately your revenue.
Moment is the best CRM for a small business, as it comes with free live chat widgets, session recording, unified inboxes, email and message marketing and so much more, with no credit card required to sign up.
Sign up to Moment today, and improve your sales and customer experience like never before!
Need help installing or using Moment? Message our live chat support.

Happy Chatting! 💬