How to Personalize Email Campaigns To Increase Sales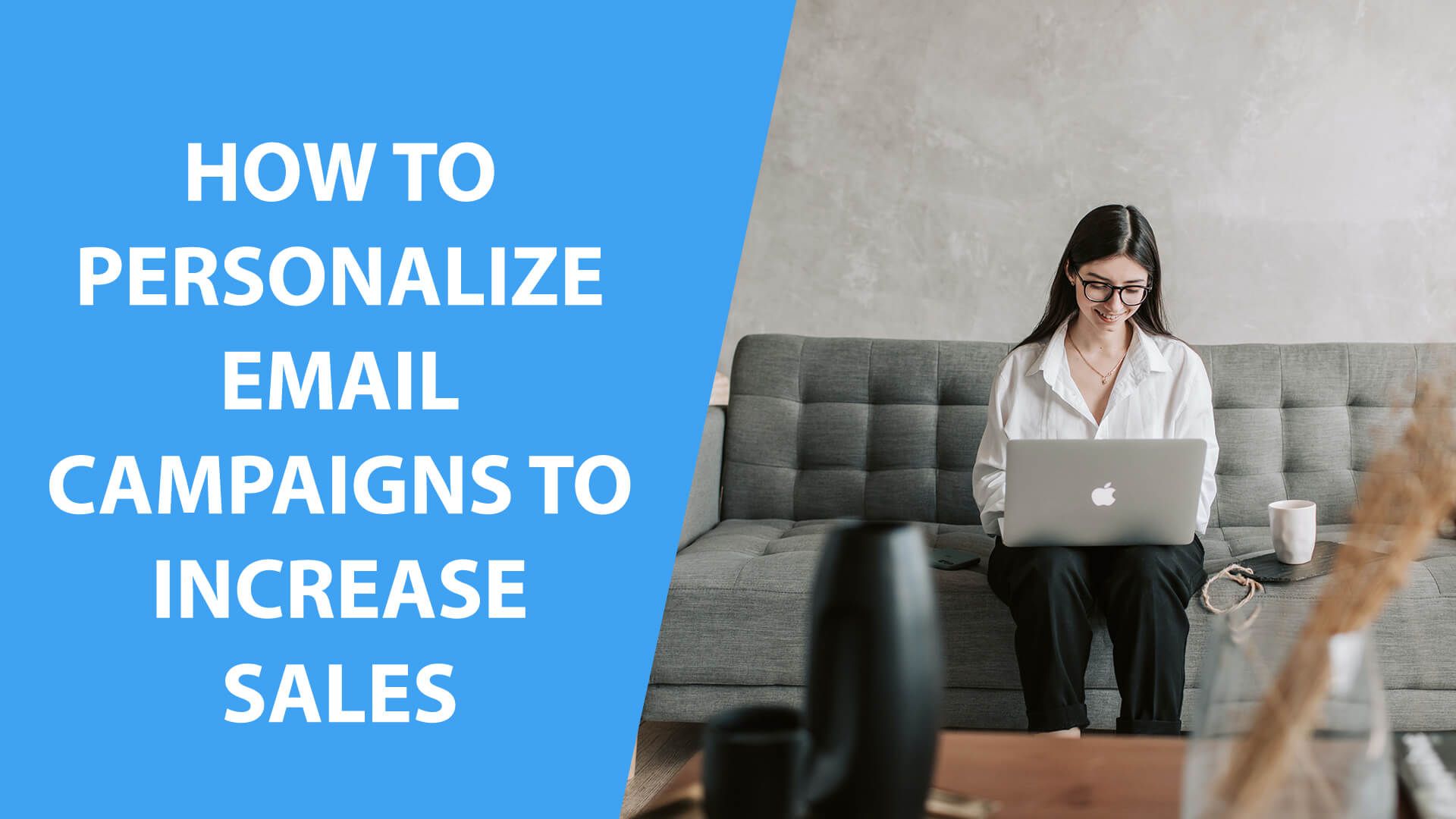 In this blog, we will discuss the power of email marketing when combined with personalization, some personalization sales stats, how you can improve your sales with email marketing, 3 ways to personalize your sales emails and the best free email marketing tool on the market!
Email marketing is the highest ROI sales tool you can use to gain more clients and sales, especially if your business is B2B. If your business is B2C, such as an e-commerce company, you should still consider personalizing your email marketing. In fact, if you take a look at your most recent purchases and the emails you receive from their business, you will notice that you're usually addressed by your name. Also, you may even have personalized recommendations sent to you as well.
So why do companies go through the trouble of personalizing their email campaigns? Simply because it increases sales, customer engagement, customer experience and the persona of the brand. When combined with a CRM, email marketing will help you close high-ticket customers, increasing your ROI, with little to no initial investment. When compared to running ads or producing organic content, email marketing provides the most return on your investment; with some stats showing a 40 to 1 rate of return! If that's exciting, let's see how adding personalization can improve sales further!
Personalization Sales Stats
As we can see, personalization is extremely important for the sales process; all the way from prospecting to the retention of a customer or client.
How To Boost Sales With Email Marketing
There are many ways you can boost sales with email marketing, in fact, we have a guide on the top 5 free email marketing strategies for 2023! If your business is B2B, you should start your email marketing process with prospecting and outreach. Personalization is extremely important when prospecting for sales, as you will greatly improve your open, click and meeting rates if you personalize your outbound emails. If your email looks like it was spammed to hundreds of other prospects, it will be ignored, or even worse, marked as spam. This is the last thing you'd want to happen, as multiple spam reports will get your domain blocked from reaching the inbox of your prospects forever.
Another way to boost sales with email marketing is to make sure you have effective call to actions. It's important to have a single call to action per email or landing page. A great way to test your CTAs is with A/B testing. You should A/B test your email campaigns and see which CTA provides the best results. When it comes to your landing page's CTA, you can A/B test it for free with Moment's session recording. By viewing replays of your website visitors, you can see the winning version of your landing page that produces the most conversions. Finally, another way to boost sales is by providing social-proof, previous case studies and positive customer testimonials in your emails. This gives your prospects more trust in replying or clicking the links in your email.
3 Ways To Personalize Sales Emails
Now that we know the importance of personalization, how it deeply affects your sales, and how we can boost our sales with email marketing, let's discuss three of the best ways to personalize your sales emails while winning your customer's trust.
1. Segmentation
The number one way to personalize your sales email campaign is by segmenting your list. This is before you even begin crafting your email itself. This sets the foundation of your campaign and will allow you to perfectly target and address your ideal audience. So, to begin your sales emails, ask yourself what kind of audience, users or customers you're trying to reach, and segment them based on that. If your email campaign is regarding a local event, you need to make sure it's sent to people in that specific area, and not your whole email list!
You can use Moment's free CRM to import users and segment them with custom attributes. By segmenting your list, you will improve your B2B marketing personalization, and will greatly increase your open and conversion rates. Since Moment's CRM also comes with free email marketing, you can easily send out segmented emails, without having to use a separate tool or website!

2. Subject Line Personalization
After you have successfully segmented your list, the next step is to create a compelling email and attention-grabbing subject line. It's important to add the user's name, or another personalized attribute such as their business name to ensure the email looks personal to them; even if it was sent automatically in a campaign. By personalizing your subject line, you will increase your open rates, which will hopefully improve your click and closing rates as well, depending on the content of your email. In the body of your email or chat message, you should add more personalized content, such as a sentence of praise related to your prospect's recent activity. Moment allows you to add personalized fields to your automated email and chat campaigns by using the hashtag symbol on your keyboard!
3. Recall Personal Information
Email marketing is one of the most powerful tools for engaging prospects and building rapport. When it comes to emailing or chatting with prospects, the personal touches make all the difference. That's why it's so important to remember special details about your prospects, like their favourite sports team, what kind of hobbies they're into, or anything else that makes them unique. Taking the time to consider how personalized content can grab the audience's attention and create a connection is sure to make your emails more impactful and effective. A great example of this is emailing a customer on their birthday, giving them a big discount on anything they wish to buy!
You can gather these key details when first live chatting with your website visitor or prospect. You should use Moment's free live chat, as the widget is connected to your free CRM. This allows you to jot down key details from each conversation in your respective user's profile. Aside from personalization, having a live chat allows you to professionally handle customer complaints and look out for important customer feedback or support messages.
Best Free Personalized Email Marketing System
In conclusion, using personalization in your business and marketing campaigns is extremely important. With the stats stated earlier, we can see that it's a driving factor in purchasing decisions and closed sales. Also, email marketing is the best way to sell your products and services, especially if you're a B2B business. Finally, we discussed three of the best ways to personalize your email marketing, starting with segmentation, to personalized subject lines and then recalling important personal information.
Moment is the best free CRM for a small business, as it comes with multiple tools in a single package, with little to no investment required on your end. Moment's free live chat is connected to your CRM and unified inbox, which allows you to segment users and build your user lists. You can then send out automated email and chat campaigns for free, which other CRMs either do not support or offer.
Ready to close more leads with a CRM that provides personalization and automated message marketing? Try out Moment for free, no credit card is required.
Need help using or installing Moment? Reach out to our live chat support.

Happy Chatting! 💬