Can a CRM Help Protect Your Brand Reputation?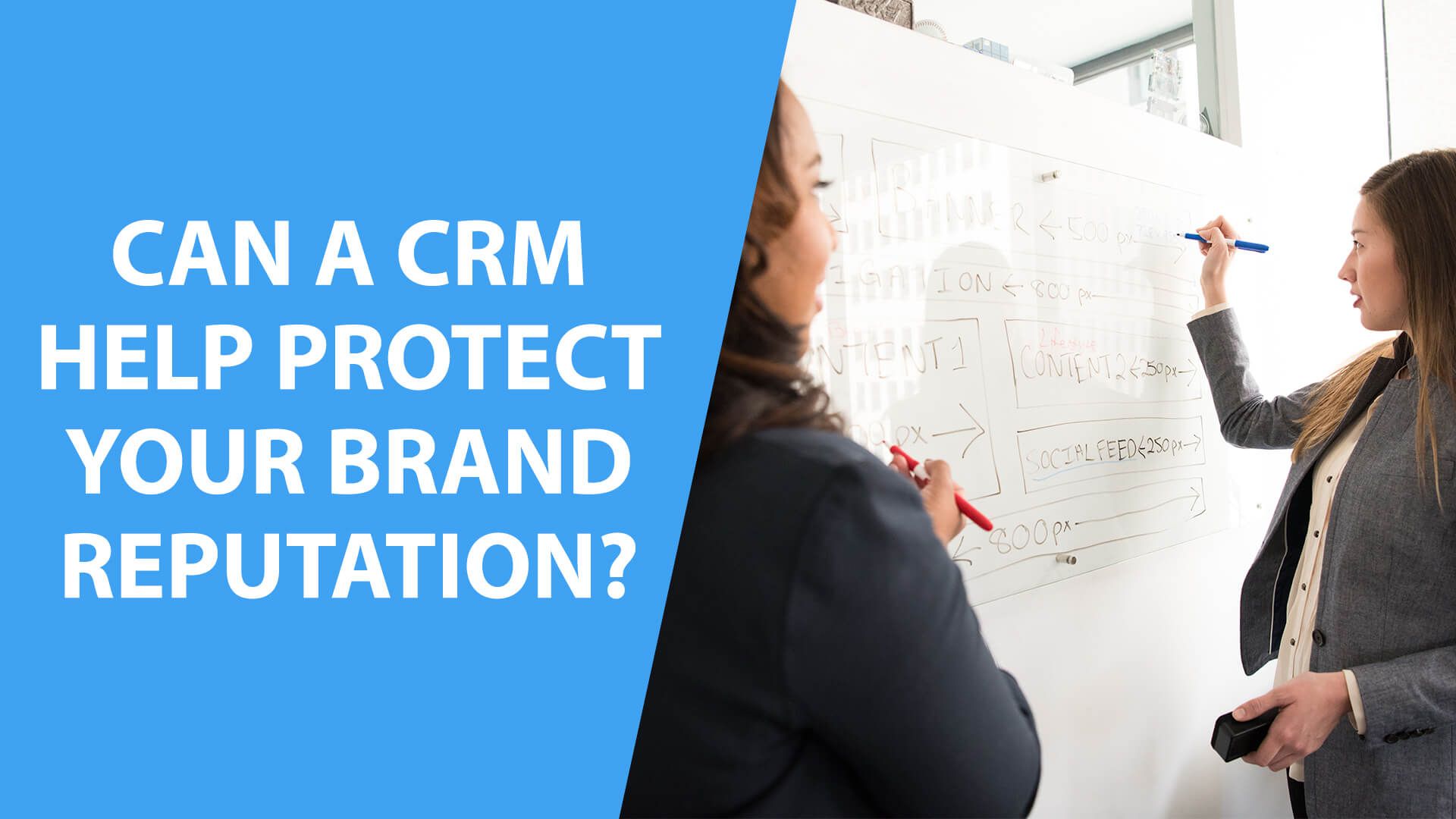 In this blog, we will discuss everything you need to know about brand reputation, from what it is, why it's important, 3 ways a customer relationship management (CRM) can protect it and the best free CRM to utilize.
What is brand reputation?
Brand reputation is an integral part of a brand's success. It can shape how customers perceive the brand, how employees view it, and even impact public opinion. In order to ensure a positive brand reputation is maintained, it is essential to create a level of trust and credibility that will reflect well on the business. This includes upholding high standards and being transparent when dealing with customer issues. Additionally, developing strong branding over time will be beneficial in growing loyalty, customer trust, and boosting brand recognition.
Why is brand reputation important? Here are some stats from Reputation X:
85% of consumers trust online reviews as much as personal recommendations.
Nearly 3 out of 4 consumers trust a company more if it has positive reviews.
60% of consumers say negative reviews made them not want to use a business.
49% of consumers need at least a four-star rating before using a business.
Your online reviews matter, a lot, whether you are a brick-and-mortar business with a Google maps listing, or a product distributor on Amazon, your reputation both online and offline makes an impact on your business. Let's discuss a number of ways a CRM such as Moment can help you manage your reputation and protect it from publicized negative feedback.
3 Ways a CRM Can Protect Your Brand Reputation
Your business must have a CRM in 2023! It's the single most important way to set your business up for success, as it helps manage all your customer relationships, messages and details in a shared cloud repository. Here are 3 ways a CRM can protect your business and its reputation:
1. Allows For Better Customer Communication
Most CRM systems help you talk to your customers efficiently. This way, you can improve your brand reputation. A CRM system also provides tools like live chats so you can answer customer concerns and complaints right away. This is perfect for companies who want to improve their brand image by providing better customer service. By having a live chat on your website, connected to your CRM, you will also improve your customer retention rates. This is a result of being able to promptly answer customer questions and concerns before they get frustrated with your product, service or business. By providing timely and live support, you will reduce the amount of negative customer feedback and reviews that will appear live on your business listings, product pages, social media and other review websites.
Moment comes with a free live chat widget that is hooked up to your team's unified inbox. There you can delegate your messages and send them to your support or sales team for further communication. Having your conversations and notes saved will help you communicate better with customers especially if they return with a new message.
2. Improves Your Personalization and Sales
Many businesses send out cold email campaigns. They can be a great way for companies to reach out to potential customers, but when they are not personalized, they damage brand reputation. Mass emails that don't take into account the individual needs and interests of recipients give the impression of an uncaring brand. Not only is this unprofessional, but it also reflects negatively on the brand's image and trustworthiness. Companies should give their email marketing campaigns the same level of attention and personalization as other forms of communication, in order to remain competitive and maintain a good brand reputation. This is especially true for B2B marketing and when trying to attract high-ticket customers.
Moment comes with free message and email marketing, allowing personalization right from the start of the campaign, to the subject line and body of the message. By segmenting your list, your campaigns will be focused and will be sent out to the correct audience! Finally, you can personalize your email body to increase sales by addressing recipients with their first names and other unique details saved in your Moment CRM user fields.
3. Stores Your Customer Feedback
CRMs are a great way to protect your brand reputation, as they store your customer conversations, feedback and notes. If your business receives negative feedback, you can try your best to mediate the issue and help the customer. If you are noticing repetitive issues on your CRM, it may be time to improve your product, website, business or service, which we will discuss in more detail shortly. If you receive positive feedback, you can use them for your case studies and testimonials; this helps improve your brand reputation and increases conversion rates! In the end, having a CRM will let you look out for important customer feedback and messages, which will allow you to fix the problem at hand before it turns into a permanent and public negative review.
Bonus: Optimizing Your Landing Page
Moment comes with free session recording, which allows you to see what your customers and prospects are interacting with on your website. This can result in a better brand reputation and an improved app and/or website, especially when you A/B test your landing page. Many companies invest millions in their customer experience, but with session recording you can see direct, live and accurate replays of customers on your landing page, allowing you to optimize it to its fullest potential. Displaying faultless landing pages will ensure an improved brand reputation.
Which CRM To Choose for Brand Reputation?
In conclusion, brand reputation is very important when it comes to improving your business, growing your sales consistently and keeping your customers, employees and stakeholders happy. As discussed, 60% of consumers say negative reviews made them not want to use a business, therefore it's important to provide the best customer service to improve customer relationships.
Moment is a free CRM; it's the best solution for improving your brand reputation, reducing customer churn, and protecting your brand from negative feedback before it goes public. By using Moment's free live chat, unified inboxes, marketing campaigns and session recording, you will refine your customer experience in 2023, and will take your business to the next level!
Try Moment today for free, and protect your brand's reputation!
If you need more help using Moment or improving your brand reputation, contact our live chat support.

Happy Chatting! 💬