Optimizing Customer Retention: 5 Ways a CRM Can Reduce Churn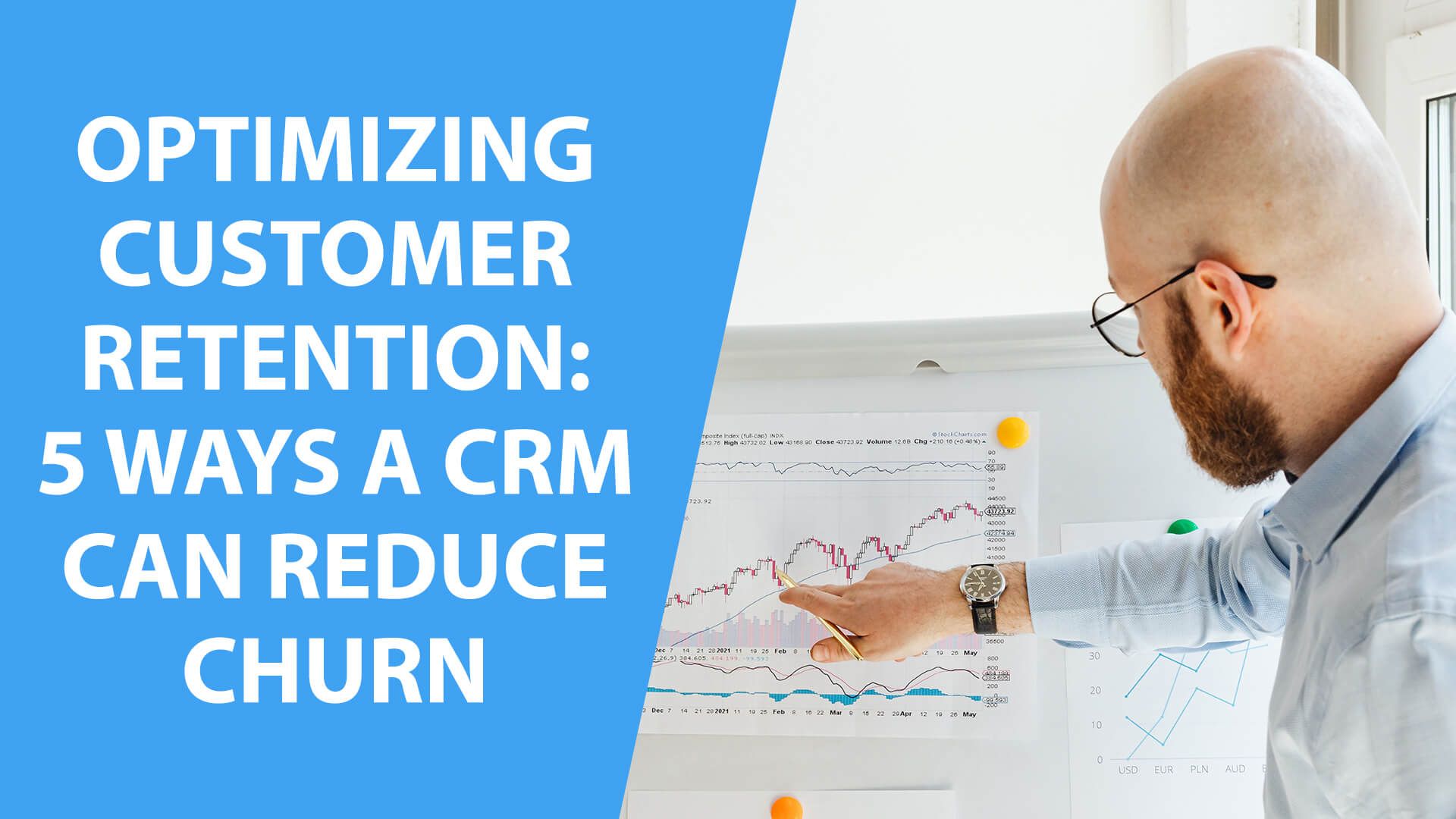 In this blog, we will discuss what customer churn is and what causes it, plus, 5 unique ways you can use a CRM to improve customer retention, reduce churn and increase customer lifetime value!
What is customer churn?
Customer churn is an incredibly important metric to consider when assessing the success of a business's customer relationships. It reflects customer satisfaction, loyalty, and strategies in place to retain customers; key components that ultimately determine how much an organization will generate in revenue. Companies need to be vigilant about customer churn since it gives valuable insight into areas where customer experience is unsatisfactory. After all, greater customer satisfaction leads to higher customer retention rates. Therefore, customer loyalty and retention are essential characteristics for establishing and strengthening customer relationships over time.
What causes customer churn?
Many companies focus all their efforts on customer acquisition, and not enough on customer retention. That is usually what causes customer churn. Businesses that solely focused on new sales, rather than nurturing existing relationships for long-term growth will experience more customer churn. If your business works on a subscription model, it's extremely important to reduce customer churn, so your active subscriptions go up every single month; relieving the stress of constantly finding new customers.
Now that we know the definition of churn and its causes, let's discuss how a free CRM, such as Moment can help you improve your customer retention, thus reducing churn.
5 Ways a CRM Can Reduce Churn
Many companies have a CRM system and invest in other customer experience strategies. Customer relationship management software help businesses in many different ways. They allow you to track, organize and communicate with your leads, customers and prospects. Aside from these CRM benefits, here are 5 ways a CRM can reduce your customer churn.
1. Strengthen Current Client Relationships
Many companies have lost their personalization approach, opting for artificial intelligence and chatbots. It's important to have a human-to-human connection when it comes to reducing customer churn. To prove this point, 59% of all consumers feel companies have lost touch with the human element of customer experience, according to PwC. By providing a human approach to customer relationships, you will win your customer's trust and loyalty, reducing churn.
Another great way to strengthen customer relationships is by offering new deals, freebies or guides. You can send out these email or chat campaigns with Moment's free automation. This will reengage your customers, improve customer relationships and reduce churn! We have another guide on the top 5 free email marketing strategies of 2023, which will help you get started with Moment CRM's free automation.
2. Improve Your Landing Page
According to PwC, 32% of all customers would stop doing business with a brand they loved after one bad experience. In Latin America, 49% say they'd walk away from a brand after one bad experience. This shows the importance of having a fully optimized website and landing page.
The best way to improve your landing page is by A/B testing it with session recording. You can use Moment's free session recording to see how users are interacting with your app or website. By seeing live recordings, you can make better business decisions, convert more website visitors into customers and reduce churn by displaying only the highest-converting landing pages.
3. Timely Customer Service
The number one way to reduce churn is to provide the best customer support and experience possible. Many companies rely on emailing, scheduling meetings or simple contact forms. However, to provide timely customer service and reduce churn, you should look into using a free live chat. Moment's free live chat is connected to your CRM's unified inbox, which allows you to respond timely to customer complaints or questions, and even allows you to delegate conversations to other team members. Ultimately, providing live chat support with a talented support and sales team will ensure reduced customer churn.
4. Track At-Risk Subscribers
By identifying at-risk clients before they cancel their subscription or service, you can bring specific customer service strategies into play to attempt to keep the customer onboard. Such strategies could highlight value for money and offer troubleshooting of any issues, extra deals or discounts with the aim of compelling customers to continue their relationship with the company. A proactive approach to customer churn can help improve retention in the long run. Your support team should use Moment's unified inbox and notes feature to look out for important customer support messages and rectify them as soon as possible; before customers cancel for good.
5. Survey Your Customers
Finally, surveying customers is an important way to determine customer satisfaction and engagement. This ties into the last point of tracking at-risk customers. You can ask questions directly related to customer satisfaction, such as how likely they would be to recommend you to someone else. Additionally, customer surveys help you identify areas of dissatisfaction so you can improve your overall brand awareness. Make sure to personalize your email campaigns to get the best open and reply rates for your surveys and customer testimonials. Moment allows you to send out automated messages and email campaigns for free, which many other companies do not offer.
Best CRM for Reducing Customer Churn
In the end, many businesses focus too much on acquiring new leads, closing more deals and maximizing their inbound sale efforts. However, by focusing solely on initial sales and not on customer satisfaction and relationships, you will lose monthly subscribers at a high rate. Therefore, we recommend you also work on your customer retention, not just acquisition.
Moment is the best CRM for a small business; it's 100% free, with no credit card required to join. Moment will reduce customer churn which will directly make your business more profitable.
As discussed in this guide, Moment comes with a free live chat widget, that is connected to your team's unified inbox, which stores your leads and customers for further engagement. You can optimize your business with session recording, and finally, send out automated campaigns to improve retention and greatly reduce churn!
Looking to expand your business in 2023? Check out these guides:
Need help installing or using Moment? Message our live chat support.

Happy Chatting! 💬